Band Instrument Rentals
Your child came home excited about joining the school band, but you've got concerns.
"Can I afford an instrument? And what if it breaks? Or worse yet, what if they quit?"
We've helped over 40,000 parents keep the smile on their child's face - we'll do the same for you!

Completing Your Rental Is Easy!
2
Choose Your
Instrument & Monthly Payment
Why Rent Toward Ownership?
We highly recommend you consider starting this musical journey by renting your instrument. Flexibility and peace of mind are just a few clicks away.
Repairability
If playability is compromised, you're covered while renting. Loaners are also available upon request, though subject to availability.
If you bought, you have to add the cost of upkeep on top of your purchase.

Replace
ability
Fire or theft - it happens! While renting, you'll get another instrument right away.

If you purchase, you'll have to work with your insurance company. It may be weeks or months before your child is playing again!
Returnability
If you can't continue after buying your instrument, you're stuck with an instrument collecting dust.

If you're renting, just bring it back! You'll have saved yourself a lot of time and money!

Exchangeability
While renting, you can move from one instrument to another with 100% of your rental credit following.

Those that bought their instrument are - unfortunately - out of luck. :(

Upgradeability
Once your child is ready to move up from their student instrument, your rental credit can apply to their step-up instrument.

If you bought your student-level instrument, this becomes much more difficult.
Choose Your Monthly Payment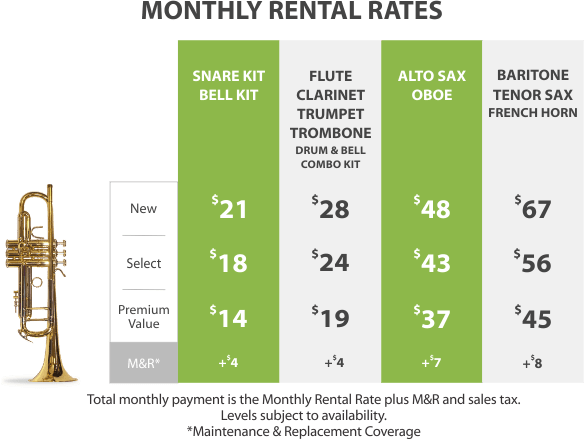 New - Never been rented.
Select - Previously rented, but taken care of. May have minor blemishes but looks great.
Premium Value - Previously rented, maybe multiple times. Has blemishes, but still plays great.

All Kincaid's instruments are in great playing condition. Each instrument is thoroughly cleaned, sanitized and adjusted by our technicians prior to availability, and come with a case, as well as a mouthpiece (except percussion), cleaning rod (flute), reeds (clarinet, saxophone), neck strap & plug (saxophone) drumsticks (percussion kits), or valve/slide oil (trumpet, trombone, baritone).


More Reasons Parents Love The Instrument Rental Program
No Interest

100% of Monthly Rental Rate Applies

30% Early Payoff Discount

Our Commitment to Your Child's Success

Name-Brand, Teacher- Approved Instruments
If you have any other questions, please don't hesitate to
contact us
.
We're here to assist you in any way we can!